NEW ORGELBOXES COMING WITH THE NEXT UPDATE!
24.09.2014
The next update comes with four new Orgelboxes!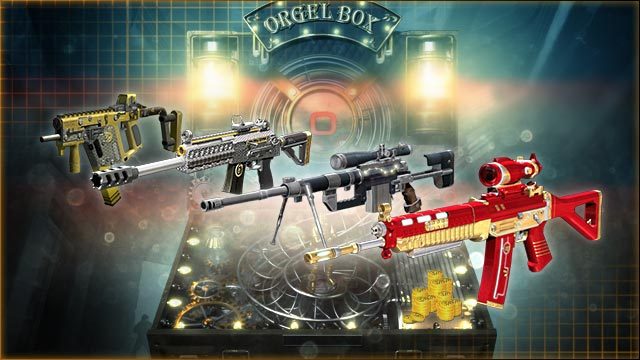 Soldiers,
It is finally time: the next S.K.I.L.L. update is looming. Here we have some details on the four new orgelboxes that will be waiting for you!
Aggressive pattern, powerful punch: KRISS Vector Honeybee
For fans of submachine guns, the KRISS Vector Honeybee is a dream weapon. An EOTech sight allows for precise targeting and the black and yellow colouring let's all enemies know that the owner of this weapon has a real sting in their tail!
Per aspera ad astra: CheyTac M200 Big Dipper
Covered with interstellar gas clouds and one of the constellations of the night sky – the Big Dipper – this sniper rifle is just right for those of you who are shooting stars. Just don't forgert to focus the ranged scope with its powerful magnification on enemies instead of the skies!
As dangerous as its namesake: the SAIGA 12 Python
Covered with shining silver scales, adorned with snake symbols and an extremely useful red dot sight sat on top – this is the perfect weapon for all scenarios in which the enemy gets up in your face, for example, in the tight halls of Embassy.
The first weapon with the ACOG: SG 551 Iron Gun
Red, chrome and gold set the tone for this amazing weapon – you'll stand out on the battlefield like a sports car! On top of this the SG 551, with its excellent hit accuracy, is popular amongst the Go4S.K.I.L.L. players, and with good reason – this variation is also the first weapon in S.K.I.L.L. to make use of an ACOG scope!
Exclusive camo sprays and more!
Also waiting for you in the new orgelboxes are the Aurora and Carbon camo sprays – both exclusively available in these boxes and not in the regular shop. The Carbon camo spray gives your weapon more structure and a black metallic shine whilst the Aurora puts the northern lights of the pole onto your weapon! As always, you'll also find temporary weapons with sights in the orgelboxes. This time around though they may also have exclusive sights!