SUPPORT THE EURO SERIES WITH THE PURCHASE OF A T-SHIRT!
24.09.2014
Show your support for the Euro Series by purchasing an in-game t-shirt - by doing so you increase the total prize money!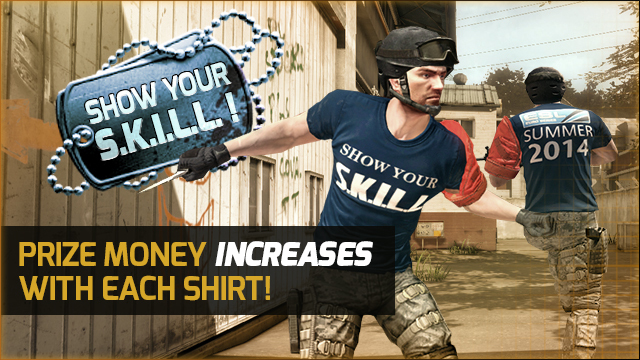 Soldiers,
The exclusive S.K.I.L.L. Euro Series t-shirt is available in our shop with the coming update. As you can see in the image, this front of this shirt challenges your enemy to show their 'S.K.I.L.L.' whilst the back of it shows off which event you are supporting: the S.K.I.L.L. ESL Euro Series of Summer 2014!
The prize money will be increased by €1 per shirt!
You read it right: for every shirt sold €1 will go straight into the prize pot for the Euro Series! For the first time ever, you can actively increase the prize money for an ESL Euro Series and in doing so, ensure that in the play-offs it truly is for some big money – for all 8 teams! The already announced €10,000 will be distributed across the best three teams as follows:
1st place €5,000
2nd place €3,000
3rd place €2,000
The additional prize money that is accrued through your purchases of the shirt will go to all those who participate in the play-offs - we'll announce the exact allocation for this soon!
Support the S.K.I.L.L. ESL Euro Series and be a part of making this the biggest S.K.I.L.L. eSports event ever!