SUMMER TIME IN S.K.I.L.L. – MADE ALL THE BRIGHTER WITH THE ORGELBOX GUARANTEE!
06.08.2014
Guaranteed wins on the capsule market, 3 new VIP maps and Twitch.tv livestreaming – can the summer get any hotter?!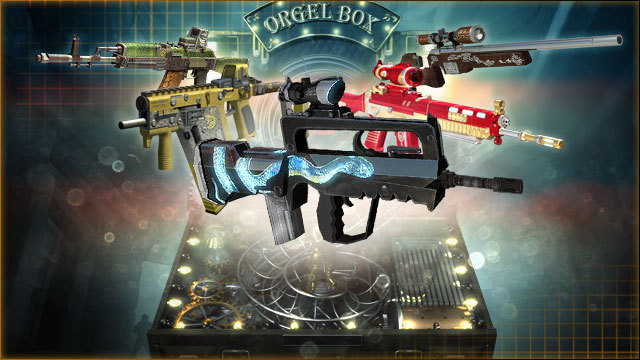 Soldiers,
The latest update for S.K.I.L.L. hits your screens today, in the middle of summer. With it comes a hefty magazine of new content and improvements!
New Orgelboxes
You'll find two new orgelboxes in game:
FAMAS Blue Viper
Throwing Weapon Box
The FAMAS Blue Viper doesn't just have an ACOG sight, it also looks insane thanks to the shiny black coating – made complete with the blue snake weaving down the shoulder rest.
The Throwing Weapon Box has three extremely rare throwing weapons:
Kukri Shattered Glass
Tomahawk Black Ice
Shuriken
Alongside the optically extraordinary versions of the Kukri and Tomahawk, you also now have the chance to get the Shuriken, whose curved flight path will allow for some spectacular kills!
The Orgelbox Guarantee – a successful summer, guaranteed!
For now, until the next S.K.I.L.L. update, the Orgelbox Guarantee applies to the following orgelboxes:
FAMAS Blue Viper
MG4 Black Widow
M14 EBR Venom
KRISS Vector Honeybee
SG 551 IronGun
K2 Black Pearl
P90 Fury
AK-103 Reptile
CZ 700 Captain
The Orgelbox Guarantee means that after 100 purchased capsules for one of these boxes, you are guaranteed to receive the main weapon for this box. For example: during the summer, you purchase 100 capsules for the new FAMAS Blue Viper orgelbox and then open them. Completely independent of what is contained in these capsules, with the 100th capsule you will be guaranteed to receive the permanent version of the FAMAS Blue Viper! Where? In the orgelboxes listed above, a bar will fill with every purchased capsule. Once it reaches 100, it is full and a button will appear in its place: you can then use this to pick up your reward!
3 New VIP Maps & Modes!
VIPs can now play Escape mode on the pre-existing map Cathedral as well as on the new Prison map. However, the true highlight of this update is Sniper mode: two teams fight on King's Temple for the highest point's score – but only using sniper rifles (and in emergencies, pistols)! When you hit, you'll get special hit displays, telling you exactly where you hit your opponent and where you were hit yourself! If you have a sniper rifle in your equipment, you can use this to play. But even if you don't have one, you can still join in the fun of this mode: the CZ 700 is provided for you to use. But be careful, it only has three shots – best make sure every hit counts!
3 Maps Now Available to All!
3 new maps for VIPs naturally means that 3 maps are now available to all players:
King's Temple (Team Deathmatch)
Shanghai (Escape)
Skyline (Seizure)
Twitch.tv Connection In-game!
You can now easily share your game experience in S.K.I.L.L. with the whole world: simply register an account on Twitch.tv and then use the integrated function in S.K.I.L.L. to stream! You'll find this in the lobby. Simply click on the button in the menu, where you used to find (and still do find) your screenshots. In a match you just have to press the ESC key and then you will see a whole new menu entry just for this function!
The S.K.I.L.L. Team wishes you the best of fun this summer!