HALLOWEEN UPDATE 2014 – A PAYLOAD OF NEW CONTENT!
30.10.2014
New maps, game modes, weapons, Orgelboxes and even more!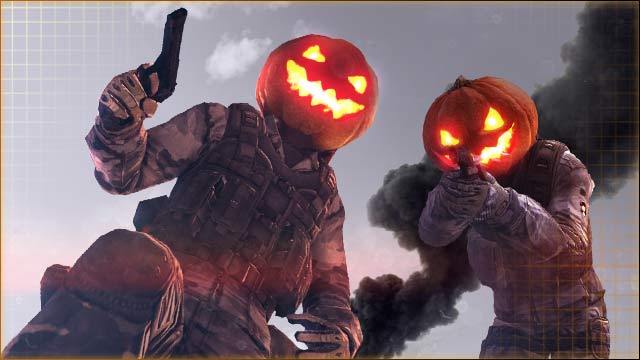 Soldiers,
The next update for S.K.I.L.L. lands today, just before Halloween, and contains a whole heap of exciting content and improvements!
New maps & game modes
VIP players will now find the 'Factory' map, playable in both the 'Team Deathmatch' and 'Sniper' modes!
On top of this, new modes have been activated on existing maps for VIPs:
'Ryokan' can now be played in 'Team Deathmatch' (against AI too).
'Building Site' can now be played in 'Escape'.
'Peacehawk' can now be played in 'Team Deathmatch'.
The following maps and modes are no longer limited to the VIP section:
'King's Temple' for the 'Sniper' mode
'Cathedral' for the 'Escape' mode
'Biolab' for the 'Seizure' mode
'Cannon' for the 'Capture' mode
Furthermore, we have activated the 'Capture' mode on the 'Desert Camp' map. From now on the mode is its own menu section and as a result is easier to find – try it out now!
Huge VIP Update
Where there was 5 VIP levels, now we have made 20! There's also a fresh collection of VIP weapons ready for you to use: starting with the Dragunov SVD Chrome Edition, through the M249 SPW Gold Edition and right up to a golden Desert Eagle with a laser sight – the longer you are VIP, the more of these VIP weapons you unlock!
Of course, the new VIP levels work in a way that ensures you never 'lose' any weapons: all equipment in 'Chrome Edition' and 'Gold Edition' continue to remain unlocked for you!
New sniper rifle and Orgelboxes
Available now: the FR-F2 - with just a single zoom level, a sniper perfectly set up for mid to short range engagement!
There is a total of four new Orgelboxes for you to choose from: the 'FR-F2 Sweetie', the 'UMP45 Undercover', the 'Halloween 2014 Box' and finally, a special offering, the 'SP EOTech Box'. The last box's capsules can be bought for SP, and then, with a little luck, you could get a permanent version of the EOTech assault rifle!
Both the 'Halloween 2014 Box' and the other Halloween items are only available for a limited time.
Plenty of client improvements
Further improvements:
'Hold-to-Aim' option: as soon as you activate this, you will look through your sights for as long as you hold down the right-mouse button.
Categories in the shop and your inventory: For a better overview, you can limit your display to certain types of items (e.g. VIP weapons).
Search function in the shop and inventory: simply type in the item you are looking for, click the button and you'll easily find it!
New 'Hot and New' page in the shop: this new page helps you find all the latest items and most popular offers all in one place!
A detailed list of the changes is available in the forum.
Have fun and best wishes from the S.K.I.L.L. Team!