NEW, EXTRAORDINARY WEAPONS IN DECEMBER!
30.12.2014
Alongside tons of new content ready for the holidays, this December we present the most beautiful weapons ever seen in S.K.I.L.L.!
Soldiers,
Today's update has a little something for everyone: for those in the Christmassy mood, those who want some weapons for SP or for those of you who belong to the passionate eSports tribe – we've got you all covered with content!
Contribute to the prize kitty for the Allstars Cup 2014!
From today onwards, you'll see the Allstars 2014 Orgelbox available in-game. Each capsule purchased in this box will contribute 10 cents to the prize pot for the Allstars Cup 2014. You can also follow the current balance of the prize pot, with only a few minutes' delay, simply by heading over to the eSports Blog! Alongside a t-shirt, a wall spray and a cool, blue-striped camo spray, particular highlights for this box include the HK417 Allstars 2014, the K2 Allstars 2014 and the CZ 700 Allstars 2014.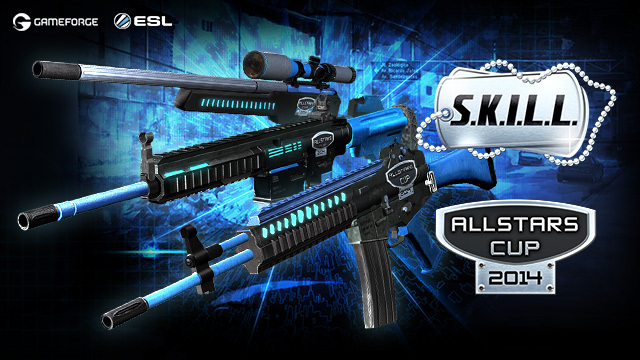 These three extremely cool weapons are only available until 20/1/2015.
New weapons: the QBZ 97 and PP2000!
The following weapons are now available to be bought for SP:
Chinese assault rifle, the QBZ 97
The submachine gun PP-2000 – and there's one for each hand!
Holiday Orgelbox
The Winter 2014 Orgelbox has plenty of weapons and other items that celebrate winter and the holidays. On top of it, in the shop you can also buy the permanent mercenaries Cherry Bomb, Red Snow and Eagle Eye Snow!
To add to this, we also have the snowball fight mode available again on popular maps Christmas Farm and Heavy Snow - and as a highlight for the season, a completely new map for all players in team deathmatch mode: Arctic Base.
There will also naturally be a rich amount of in-game events for you over the holidays – and there's also no respite from the fury of eSports. Don't forget to take a look at the new S.K.I.L.L. page at the ESL website!