WINNERS OF THE ESL S.K.I.L.L. PRO LEAGUE: PENTA SPORTS!
01.12.2015
Four teams competed for the title in the second season of the ESL Pro League: PENTA Sports took the crown!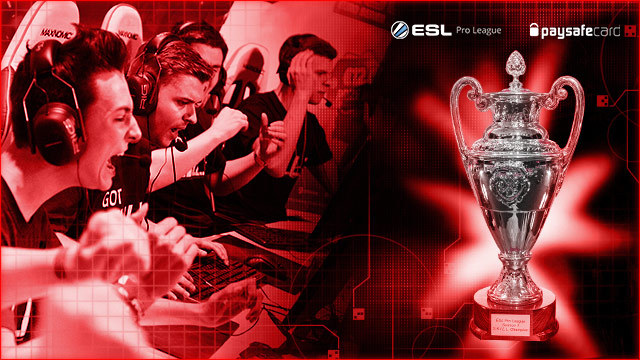 Soldiers,
On 28/11 we presented the season finale of the ESL Pro League, live from the ESL TV Studio in Cologne, in collaboration with the ESL and paysafecard. Europe's top 4 S.K.I.L.L. teams travelled to Cologne to battle it out for the crown: EURONICS Gaming, Planetkey Dynamics, 31337 eSports and PENTA Sports.
Semi-Finals Results
Following some hard fought semi-finals, Planetkey Dynamics and 31337 eSports had to share the honour of season third place.
In the first semi, 31337 eSports was knocked out of the running 0:2 by EURONICS Gaming, whilst PENTA Sports managed to edge out against Planetkey Dynamics 2:1.
The Final: EURONICS Gaming vs. PENTA Sports
The live stream finally culminated in the highlight of the grand final between EURONICS Gaming and PENTA Sports, with PENTA Sports going through as victors. In the end, players Gravity, Eraze, HEXOR, Fr0zty, Marre and Suzu were able to lift the ESL Pro League trophy with pride – and they can of course look forward to their €12,331.88 share of the prize money!
Our thanks to paysafecard for their support of the ESL Pro League – and once more to our great community, for your amazing contribution to the prize fund!
Even More eSports
There's plenty more eSports for everyone to enjoy: every Sunday you can sign up for the Go4S.K.I.L.L. Cup and dive straight into playing for prize money.
Simply follow @ESLSKILL on Twitter or ESLSKILL on Facebook, and don't miss out any S.K.I.L.L. eSports news.