GO4S.K.I.L.L. 2016: OVER €28,000 IN PRIZE MONEY
27.01.2016
There's more than €28,000 in prize money to be won in the Go4S.K.I.L.L. Cups in 2016.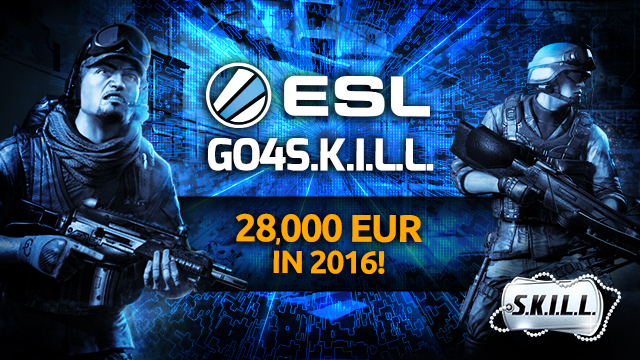 Soldiers,
Across 2016 too there will once again be Go4S.K.I.L.L. Cups with the ESL. Look forward to prize money totalling over €28,000!
Go4S.K.I.L.L. every Sunday
A Go4SKILL Cup will be held every Sunday, which you can register for with a team of 5 players - deadline for which closes just shortly before the cup begins. The winning team can look forward to €250! Second and third placed teams will receive €125 and €75 respectively.
Monthly finals with even more cash prizes
The best 8 teams in each month will go head to head in the Go4S.K.I.L.L. Monthy Finals. There the winner can take home €350!
Register and join in the fun at the Go4S.K.I.L.L. Portal at the ESL.