SUMMER, SUN, SAND AND S.K.I.L.L.
21.07.2016
Summer is here and with it comes 3 new maps, 5 orgelboxes and all kinds of gear for those hot summer days!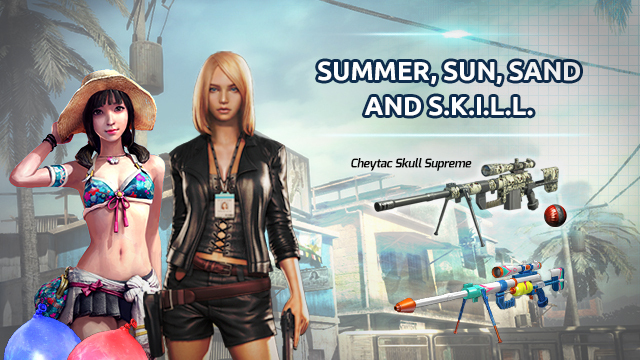 Attention soldiers,
The summer update for S.K.I.L.L. introduces a selection of new weapons, mercenaries and equipment that are perfect for those warm summer days!
3 New Maps
New VIP Map: Office
A new team deathmatch map can now be exclusively hosted by VIPs: Office.
New to all:

 

Bridge and Summer Valley  
Bridge: try out the new Breakthrough mode in the brand new map: Bridge.
Summer Valley: play the summer version of the Heavy Rain map now. 
Further Changes
We've also made Blasting: City Streets available to all players. The following has been removed from the game: Party: Manhunt and Shotgun TDM
Summer in the Capsule Market
5 new summery orgelboxes await:
Cheytac Skull Supreme

M4A1 Fallen Angel

Summer 2016 Box
Black Mamba Box
SP Waterwave Collection
Cheytac Skull Supreme
Seize your chance: starting today, the new orgelbox Cheytac Skull Supreme is available in the shop. Firstly there's there legendary Cheytac Supreme as main prize – in the most extraordinary and deadly skull version. The highlight: up to now the supreme weapons were exclusively available as a special win with the highest rarity, never as a point of focus as the main prize. 
Are you a winner? Then buy your capsule now! 
M4A1 FALLEN ANGEL 
New to the capsule market, the M4A1 Fallen Angel. The M4A1 is an improved version of the M4. The improvements include a heavier barrel, a fully automatic firing mode and a two-sided fire type selection switch to simplify use for left-handers.
Summer 2016 Box
What's a S.K.I.L.L. Summer without a Summer Box. There's a whole range of new summer items, and even some summer weapons too, including the FAMAS Waterblaster, XM8 Marine or P90 Squash.
Black Mamba Box
The Black Mamba Beach is also beach ready and waiting for you.
Sakura Beach
Mercenary Sakura Beach is back again and will be available in the shop for a limited time. For 399 CASH she offers a 60% boost on earned experience and 40% more SP.
Change Log in the Forum
The update contains a lot of technical improvements for the game, which will help us in the fight against cheaters and hackers.
As always, you can read the full details in the forum.
Keep up to date with the latest news by following us on Twitter as well as Facebook.
What are you waiting for – time to fight!