S.K.I.L.L. ESPORTS IS GOING GLOBAL!
13.07.2016
Together with Dragonfly Games, we are proud to announce that the winners of ESL Pro League Seasons 1 and 2 will be representing Europe in the Special Force World Championship in Taiwan!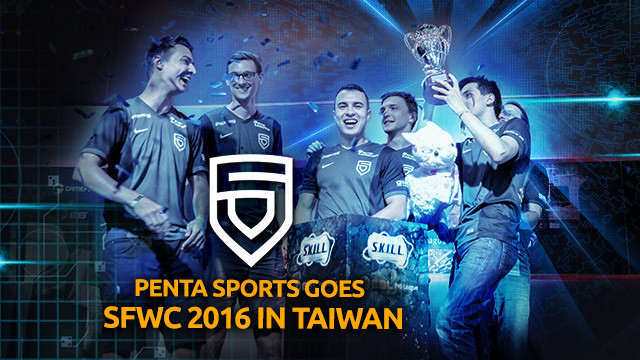 Soldiers,
Together with Dragonfly Games, we are proud to announce that the winners of ESL Pro League Seasons 1 and 2 will be representing Europe in the Special Force World Championship in Taiwan!
The Clash of the Titans: SFWC 2016
The best Special Force 2 teams from around the world will clash in Taipei, Taiwan on the 27th and 28th of August, 2016. Europe will be represented by the double ESL S.K.I.L.L. Pro League Champions: PENTA Sports. They will compete for a share of a $12,500 prize pool and the title of the best Special Force 2 Team in the world. Let's see how they are dealing with the pressure in the interview below.
Interview with PENTA Sports
Answering the questions will be: Gr4vity, PENTA Sports' in-game leader (IGL).
1) After winning two ESL Pro League finals and over 50 ESL cups, you were invited to the SFWC 2016. What was your reaction when you first heard about the invitation? Were you surprised, especially as the invite was sent out on April 1st?
As you stated above, we were very much surprised and I can tell you none of us believed it at that point. But as 1st April passed, we realised you were serious :). Jokes aside, we're very excited about this tournament as it is one step above what we have already participated in before, meaning it is not only European championships, but the world's best teams playing for title of the best team in the world.
2) It's the first time that a S.K.I.L.L. team will be participating in an international event as European representatives. Do you feel the pressure or has the experience from previous ESL Pro League finals allowed you to face this challenge calmly?
To be honest I have no idea what to expect from this tournament. I know that Asian teams play under different rule set and they are also playing Seizure. If this will be the case (longer rounds, all weapons allowed and blasting maps), I expect us to have hard time in Asia, as we won't really be accustomed to their play style. Even before I'd say we were most experienced team in S.K.I.L.L. - Special Force 2 regarding LAN experience, so I don't think there should be any pressure as we tend to deal with it well before, and I think we have proven that in ESL Pro League twice. Only problem I see is jet lag, but I hope we can come few days earlier to get used to that.
3) What do you expect from your opponents and of the event itself? Have you already thought about your preparations for this tournament?
I think event itself will be well organised. I'm sure that Asian teams are good at this game, as it is their game after all, and they have been playing it longer than we did, especially Koreans. About preparation - we are going to participate in ESL cups and monthly finals, and try to watch as many VODs as possible, to get a grasp of their play style. We also hope for some sparing matches with other participants as it was promised to us recently.
4) Finally, in a 2014 interview we asked you about the state of the S.K.I.L.L. competitive scene at that time. How much has it changed since then?
In 2014, it was just the start of the competitive aspect of the game. I'd say 2015 was a dream year so far for Special Force 2, as teams had something to compete in, and two seasons of ESL Pro League were really well organised. I think this event only impacts us, as we're the invited team, and there is no qualifier, but given the situation that is understandable that we're the ones that get invited, based on previous results. I hope there is going to be a LAN tournament as there was in 2015, but how realistic is that, we are yet to see.
Play competitive: ESL S.K.I.L.L.
 The VERSUS matchmaking is available at the ESL, which makes for a perfect training ground for all the competitive S.K.I.L.L. players. Once you and your team-mates feel confident enough, sign-up for the Go4S.K.I.L.L. Cup. Your team will have the chance to win €450 every Sunday: simply register and play! The best teams of the month will then play in a monthly final for even more money. The exact prize money distribution and information on registration can be found on the ESL's Go4S.K.I.L.L. portal!
That's it for now soldiers, stay tuned for further SFWC 2016 updates! Dismissed.