S.K.I.L.L. THIS FEBRUARY: FACE THE CARTEL
13.02.2018
New Mode and Tough Weapons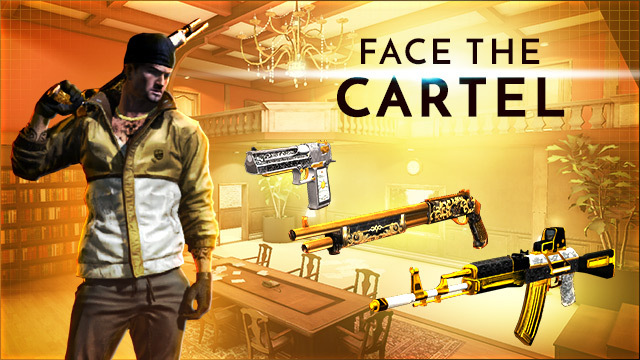 CARTEL HQ
Face some serious grunts in new 'Infiltration' mode
Take a deep breath and push through the middle: charge your way into the Columbian Cartel's mansion in the new mode and take it to the smugglers!
There's naturally some special orgelboxes ready for the mission:
Cartel Collection: contains the AK103 EOTech Cartel, MAC-10 Cartel, Desert Eagle Cartel, Colt 1911 Cartel and M870 Cartel.
Colombiana Collection: contains the M4A1 SWAT, Benelli M4 SWAT, Beretta M92FS SWAT and the UMP45 SWAT.
NEW ORGELBOXES
Simply Cool Weapons
So laid back they're falling over! To make sure you have the right firepower for your missions, we've got more orgelboxes:
The Colt 1911 Mirra is perfect for soldiers who have highly trained trigger fingers.
FEVERTIME
It's heating up again
No resting, soldiers: the next FeverTime is around the corner – get the new Fever orgelboxes MSR HighTech and MRR FR HighTech or perhaps even the new Fever Pack Valentine Weapon! As always, you can naturally boost your LP mercilessly in FeverTime.
PIERCING EVENTS
There's Gifts
Fun events are a great diversion even for the hardest of tough guys. Join in and earn prizes fresh with the update!
As always, you can read the full details in the forum.
Keep up to date with the latest news by following us on Twitter and Facebook.
What are you waiting for – arm up and ship out!