S.K.I.L.L. THIS SPRING: TURBULENT TIMES
27.03.2018
New Map, Weapons and Rewards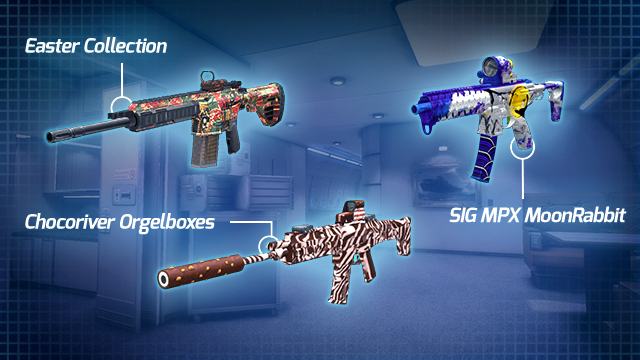 TURBULENCE
It's war 20 kilometres above the earth: the new 'Turbulence' map takes the firefight to previously unseen heights as VIPs can now fight on the most famous plane in the world, Air Force One! Please fasten your seatbelts and put your seat in an upright position!
New Orgelboxes
This Easter brings you the new orgelbox 'Easter Collection', holding an exquisite selection of excellent equipable items: G36C OpenDot, CheyTac M200, FAMAS OpenDot, GALIL OpenDot and the HK417 OpenDot.
Just as fresh are these three orgelboxes:
The ACR Chocoriver contains the assault rifle with the Chocoriver camo
The UPM45 Chocoriver contains the submachine gun with the Chocoriver camo
The SIG MPX MoonRabbit contains the submachine gun SIG MPX MoonRabbit
Daily Rewards
The daily rewards are back! Your patience is finally being rewarded – you can now pick up some cool items every day.
EVENTS WITH SOME REAL POWER
Soldiers fight not only for honour but also for rewards. With the update we are once again bringing you events that truly reward you for your time. Load up and join in!
As always, you can read the full details in the forum.
Keep up to date with the latest news by following us on Twitter and Facebook.
What are you waiting for – arm up and ship out!