CRAZY PRESENTS IN S.K.I.L.L. – GET READY FOR THE HOLIDAYS!
24.09.2014
Shop madness in time for Christmas: new characters, stronger equipment, weapons with enormous penetrative force and much more wait for you!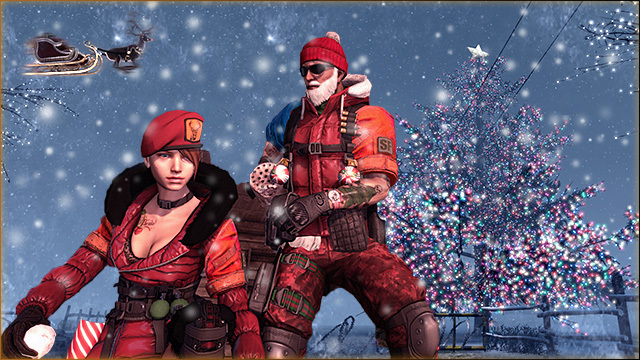 The final update before Christmas and the New Year is battle ready
Good news from the front lines: our next shop update is mere days away and with it comes a whole host of content for the holidays. No matter whether you are basking in the Christmas spirit or if you are planning to stylishly ring in the New Year with fireworks – there's definitely something to suit your mood!
Fun-filled snowball fights on two maps
It's not truly winter without snowball fights: the new update is bringing two new maps with it on which you can throw some icy bullets at each others heads. One of these is the winter version of the current VIP map, Farmhouse, the other gives you a peek at a new map that will be arriving in a coming patch! We've got two tips for you regarding these maps:
Picking up presents always pays off!
When you hear the bells ringing, a glance to the skies will offer you a quite special spectacle!
All kinds of holiday weapons
Four different assault weapons with EOTech sights lie in wait, in both 7 day and 30 day versions:
HK417 Snow FX: for those who want to greet the winter with animated snowflakes
M4A1 Christmas Gift: colourfully gift-wrapped like a present under the tree
AK-103 Rudolph: takes the red nose to make it genuine
K2 Reindeer FX: brightly-coloured packing and it even has animated reindeers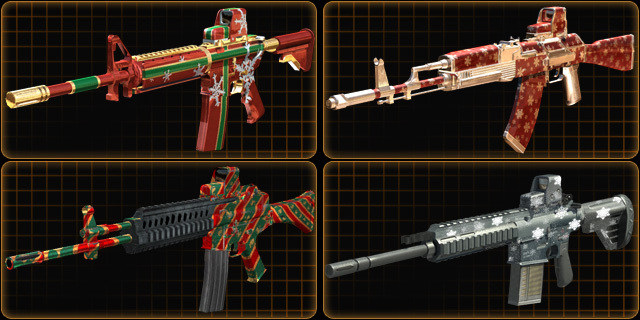 In addition there are three different variations of the M67 frag grenade available to buy, both as 30 day versions and as permanent versions:
M67 Snow FX: just like the HK417 Snow FX, it has animated snowflakes
M67 Snowman: the friendly wink of a snowman
M67 Firework: a very special grenade with unique animations and effects

As an highlight to beat all highlights, we are offering you the RPG-7 Firework for Defence and Survival modes. This variation of the RPG-7 (also available as both a 30 day and permanent version) fires a gigantic explosive rocket that trails sparks behind it and explodes just like a real-life firework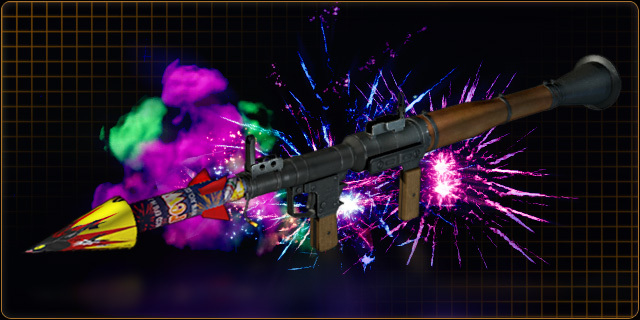 Characters and equipment
We have two complete characters on offer for you, which change your appearance from head to toe:
A click on these two (located in 'Extras') in the shop is particularly worthwhile this time around: the female Cherry Bomb and the male Red Snow are certainly not the standard Santa Claus costumes that you would expect! You'll find both the 30 day version and a permanent version of each in the shop – just like all our characters, these also guarantee you an XP and SP boost!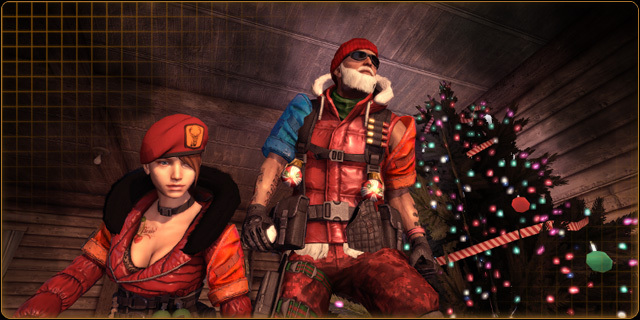 We've prepared something for the traditionalists too: also located in the 'Extras' category, there is a Christmas Pack. For 30 days, it allows you to put your character in the boots, hat and gloves of Santa Claus himself – there's even the white beard too! You will also be able to buy these four equipment items individually as 30 day and even permanent versions.
New camo spray
The Firework FX camo spray will turn your weapon into a colourful eye-catcher – perfectly suited for distracting the enemy for that short moment before you neutralise them! As the first camo spray, this will be available as a permanent version, alongside a 30 day version. On top of that, there will also be a variation without animation, with no FX in the name for those of you who want colours that are less bright.
New victory animations
At the end of a won round your character always throws confetti in the air – provided you have survived the round, that is. From Wednesday on, you will be able to by a version of this animation in the shop where your character has a small firework burning in their hand instead!
New wall sprays
For all players who want to share the Christmas feeling on the maps, we have the Rudolph wall spray and the Snowman wall spray available in the shop. It provides all with the chance to spread the glowing red reindeer nose or the snowman with scarf and hat all over the maps.
Event fireworks in the coming weeks
After the successful Halloween event, there will be even more excitement during the coming holidays: you'll be able to win cool items on missions! Additionally, we have planned a very special surprise. It all begins on 18.12.2013 – the events will naturally take place in the new year. It will certainly pay off to play S.K.I.L.L. during the holidays!
It all starts on Wednesday!
All of these Christmas items will be available in the shop with the start of the event this Wednesday, 18.12. So, two more sleeps and then it's time for Christmas in S.K.I.L.L.!