S.K.I.L.L. IN THE ESL – ISSUE 4
24.09.2014
Contents this issue: Go4S.K.I.L.L.!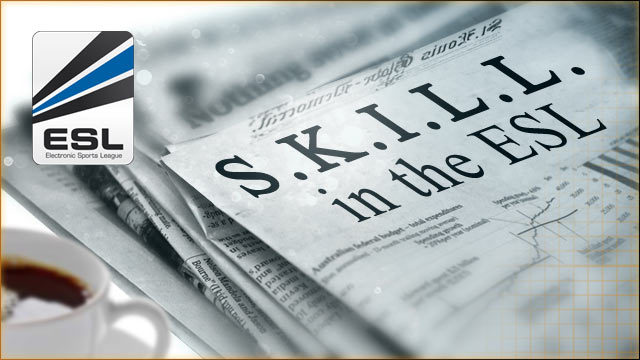 Here's the latest news on 'S.K.I.L.L. in the ESL' – all the info surrounding our eSports events.
Go4S.K.I.L.L. starts in February!
S.K.I.L.L. eSports is ready for the next level: the Go4S.K.I.L.L. Cups start in February at the Electronic Sports League (ESL). The first cup will be played on 02.02.2014 - so you better form a team right now and sign up here!
Weekly cups with 100€ price money!
There will be a cup each sunday with the winner team recieving the full 100€. Additionally, points toward the monthly ranking will be distributed - find out all the details in the Go4S.K.I.L.L.- Portal.
Monthly finals - live and with a total of 500€ on the line!
The 8 teams that collected the most ranking points during one month will be invited to the monthly final. The winner of this final will take home 300€, the second place can look forward to 200€. And all of this will be in front of an audience: the monthly finals will be played live on ESL TV!
This weekend: your training will be rewarded!
We will activate some ingame events in the time from 24.01 10:00 CET until 26.01 23:59:59 CET. These events will reward you for training in situations that are similar to the Go4S.K.I.L.L.-Cups! Make sure to play Blasting with 5 vs. 5 players, either on the normal Blasting Maps or on the VIP-Blasting Maps - rewards consist of SP and Orgelbox-Capsules!
Recording of the Allstar 2013 Finals available for viewing
If you missed the finals of the S.K.I.L.L. Allstar 2013 Cup click here for the recording of the stream on ESL TV. This is the perfect opportunity to learn some tricks from the best S.K.I.L.L. players of 2013 - just in time for the upcoming Go4S.K.I.L.L. cups!