IN THE LATEST PATCH: THE SG 551 AND LOADS OF USEFUL CHANGES!
24.09.2014
A new weapon, new prices and some small changes all coming in this patch!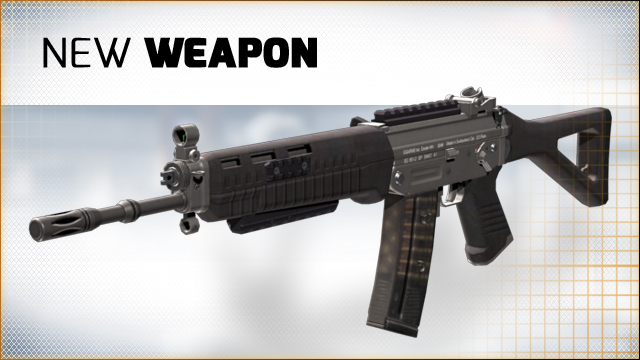 Soldiers,
Many of you have requested it and now it is available in the shop immediately: the SG 551! This excellent mixture of precision and penetration should be contained in every soldier's arsenal – best get it now as it is available for both SP as well as for Cash! Here's a glimpse of the weapon, decorated with the latest animated camo spray, the 'Kraken FX':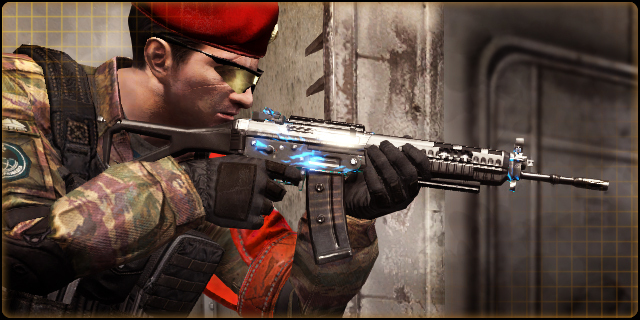 Cash prices for weapons permanently reduced
After we received such positive feedback from you all regarding the temporarily reduced weapon prices, we decided to permanently reduce the Cash prices for all standard weapons (i.e. those that can be purchased using SP and Cash). Included in this was also the price of the Starter Pack (available in the shop in the Extras section) to make it even more appealing to new players!
Character EXP and SP boosts
To better match the new prices we have adjusted the boosts of the following suits: GROM, Black Security, Red Snow, Black Mamba, Cherry Bomb and Delta Scout. The new values for the boosts are as follows:
GROM: 25% EXP boost and 15% SP boost
Red Snow: 50% EXP boost and 15% SP boost
Black Security: 50% EXP boost and 30% SP boost
Black Mamba: 75% EXP boost and 40% SP boost
Cherry Bomb: 75% EXP boost and 40% SP boost
Delta Scout: 100% EXP boost and 50% SP boost
This applies not only to newly purchased characters, but also to the ones that you already own! The Christmas characters Cherry Bomb and Red Snow are not currently available in the shop, but this information is important to all of you who own and use them.
Permanent equipment available
After already offering some unusual equipment items, such as the Santa costume and the Horse Mask, as permanent versions, you can now also buy almost the entire shop equipment range in permanent versions for Cash. So all cool helmets, masks, trousers, gloves, etc. with which you can customise your soldiers according to your tastes are now available both as a 30 day version and a permanent version for Cash! As a result, all level limitations have been removed – so if there is something you like, go for it!
eSports improvements
To improve our eSports activities, for example in the ESL, there have been two changes made to the game:
The ping is now displayed as a number next to the indicator lamps – this way you can uncover and resolve connection issues faster.
Character shadows have been deactivated for all players – a bug makes these shadows sometimes appear through walls.
Don't forget: on 25.03 the monthly final for the February Go4S.K.I.L.L. Cup will be taking place – 8 teams fighting for a prize pot of EUR 500. You can watch the whole thing live on ESL TV!
Top up your Cash in the client
We've made it that much easier for you to top up your Cash account: the entire process can now be completed in a window in the client, there's no longer the need to switch back and forth with a web browser! Note: it can take a little while before the Cash will be credited to your account. This may also in some cases require you to log out and back into the game.
Play on Patch Day
There is once again a little event that will reward you for playing directly on the day of a patch. There will again be a couple of free capsules to pick up, this time around for the P90 Fury, one of our newest Orgelboxes!
Have fun with an even better S.K.I.L.L.!